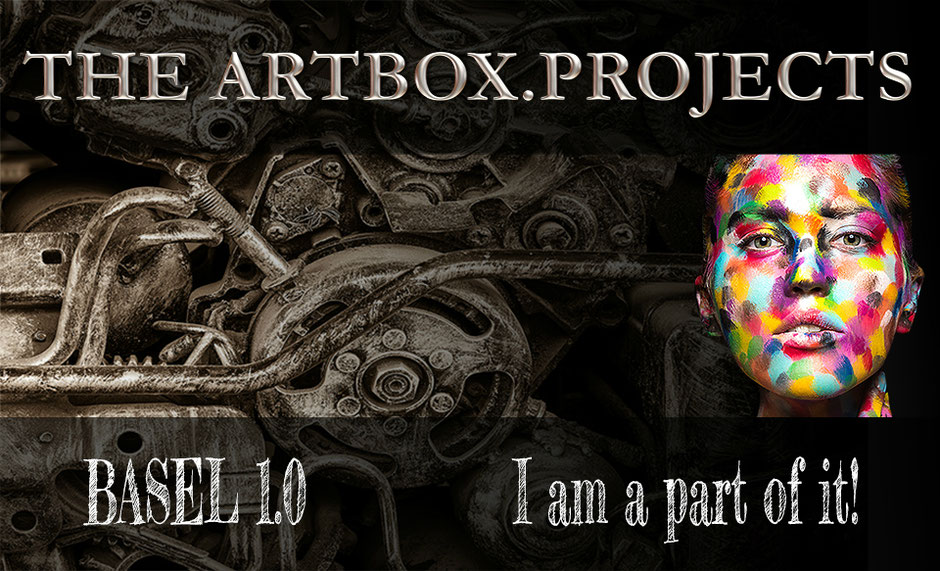 Euro Airport Art Basel Artweek vom 14. Juni - 18. Juni 2017 
Opening hours : 06:00 - 23:00h
Euroairport Basel
Schweizer Seite / Swiss Side
Eventplattform Luminator
3.Stock / 3rd floor
https://www.theartboxgallery.com/home-english
Fondazione Opera Campana dei Caduti - Rovereto - Trento (Italia)
Human Rights H2O 
 20 May to 21 September 2017 
Sharing Essential Marches of H2O 2017 Mixed media on Canvas 50x50cm
There is a significant increase in the water being "lost" to the atmosphere as a direct result of human activity. The atmosphere is warmer due to global warming and warmer air can hold more water vapour.
- Humanity in relation to water -The wave is free when it realizes it is part of the sea. 
"La marcia condivisa dell'H2O". Tecnica Mista su Tela. 50x50cm
"C'è un aumento significativo dell'acqua dispersa nell'atmosfera come diretta conseguenza dell'attività umana. L'atmosfera è più calda a causa del riscaldamento globale. 
L'aria calda contiene più vapore acqueo. L'Umanità in stretta relazione con l'Acqua. L'onda è libera quando è parte del Mare".
50x50 cm
Web Page : http://aiapi.it/h2o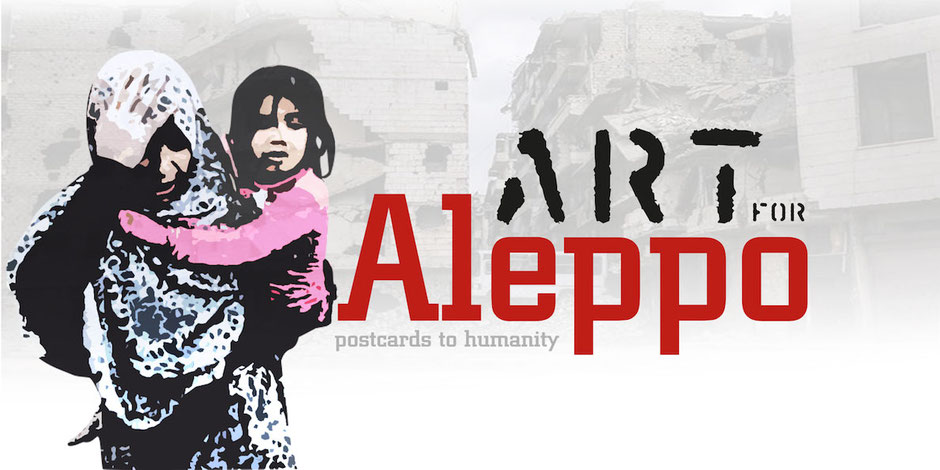 Opening reception Catalyst Gallery in Beacon New York USA
Saturday April 22nd, 2017 5-9pm.
Gallery open from 12-9pm April 22nd until 23rd
The next show is at Garnerville Art Center in West Haverstraw, NY during their Arts Festival on May 20 and 21 st
The postcard has been sold .

Group Exhibition Dubai
"Adroitness" exhibition opens Saturday, 4 February 2017, 
10am to 7pm at the Art Hub Dubai Gallery in D3.
Gallery timings:
Sunday to Thursday - 10am to 7pm
Friday - 1pm to 7pm
Except Holidays - Gallery Close
The exhibit runs until 11th of February 2017
´Refreshed reflected sea shadow 12.pm 2014 Oil, sand on canvas 150x150cm¨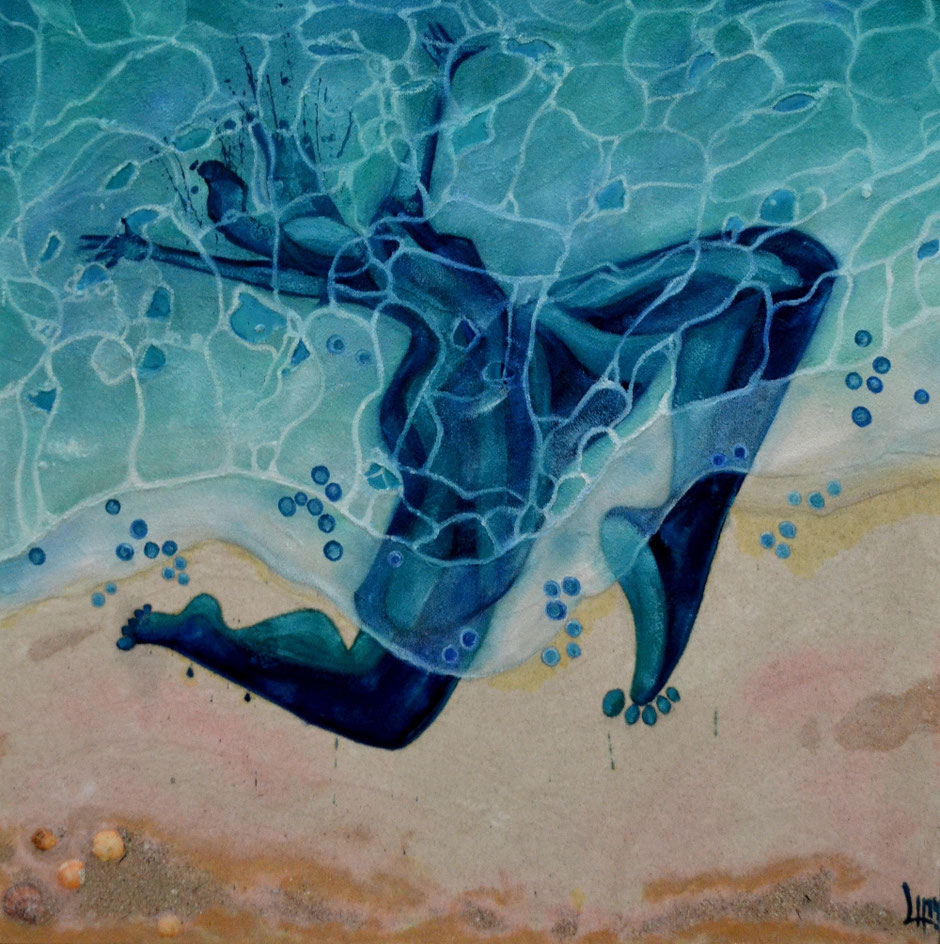 My artworks now available at Arte Casa Puerto Andratx Mallorca
 http://www.artecasa-gallery.com/
You can order all my 3 d artworks with in a plexiglas box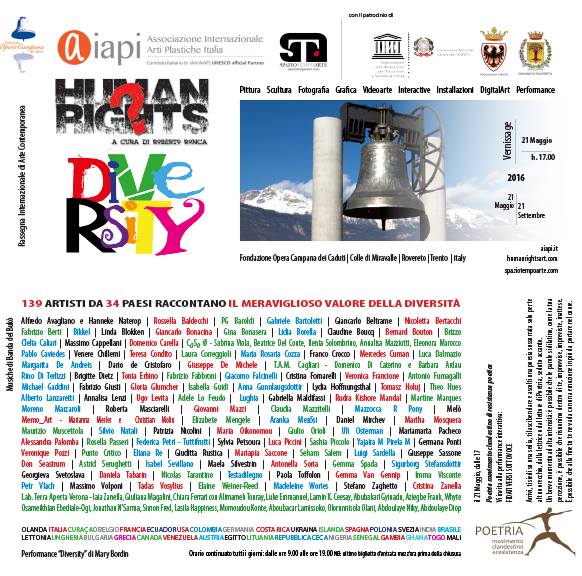 Caduti - Rovereto - Trento (Italia)
dal 21 Maggio al 21 Settembre 2016 con il patrocinio di:
Commissione Italiana per UNESCO, Provincia Autonoma di Trento, Comune di Rovereto
http://aiapi.it/
Bilancio sulle delicate linee della diversità
Mixed Media on Canvas
Tryptic 30x30 | 20x20 | 30x30 | cm

Bilancio dell'Immigrazione: sulle delicate linee della diversità!
Uno dei vantaggi economici dell'immigrazione è nell'interazione tra individui. La diversità arricchisce l'ambiente in cui la gente vive e si confronta, 
incrementando gli scambi culturali e la possibilità di una maggiore creatività. 
Approfittare di una moltitudine di persone per superare ogni diffidenza e ogni divisione verso l'altro. Questo è il vero "guadagno" per ogni cultura nel mondo.
Immigration Balance on delicate Lines by Diversity
One of the economic benefits of immigration is in the interaction between individuals. The diversity enriches the environment in which people live and confronts 
cultural exchanges and the  possibility of extended creativity increases. 
Taking advantage of the multitude of people by overcoming the mistrust and sharing is a gain for any culture in the world.
You are cordially invited to the exhibition 30 years anniversary Gallery Schröder and Dörr.
30th of April 6 p.m.
Milan Sladek will show one of his fabulous Pantomime pieces.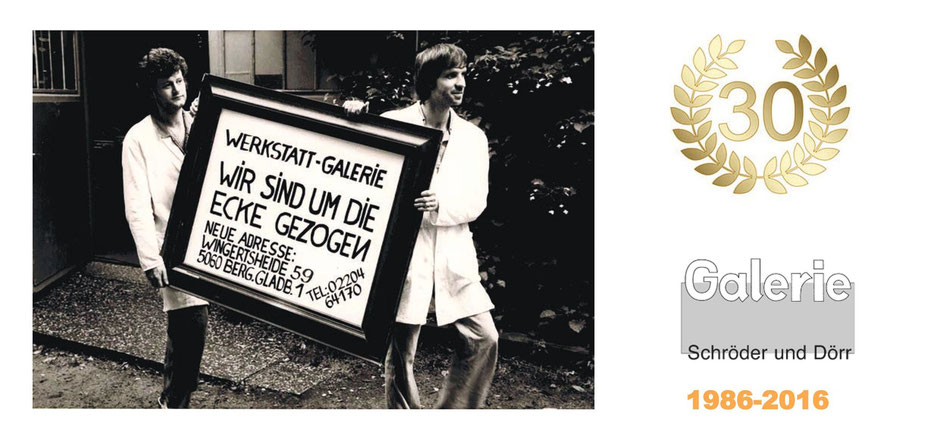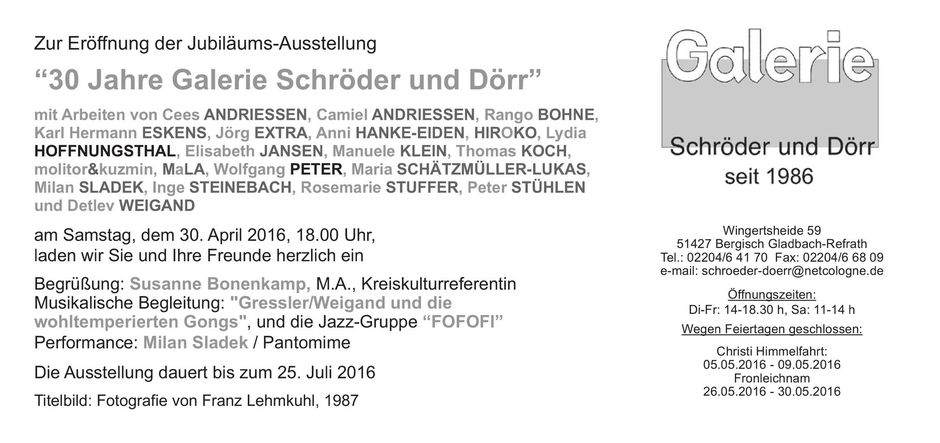 Exihibition `Ensembles´Lydia Hoffnungsthal and Neco Beth
Consulate of the Federal Republic of Germany in Palma de Mallorca
Open to the Public from 13.11.2015 Monday to Friday 9.00 am to 12.00 am 
http://freizeit.mallorcazeitung.es/agenda/noticias/nws-462194-migration-und-stiere-kunst-im-konsulat.html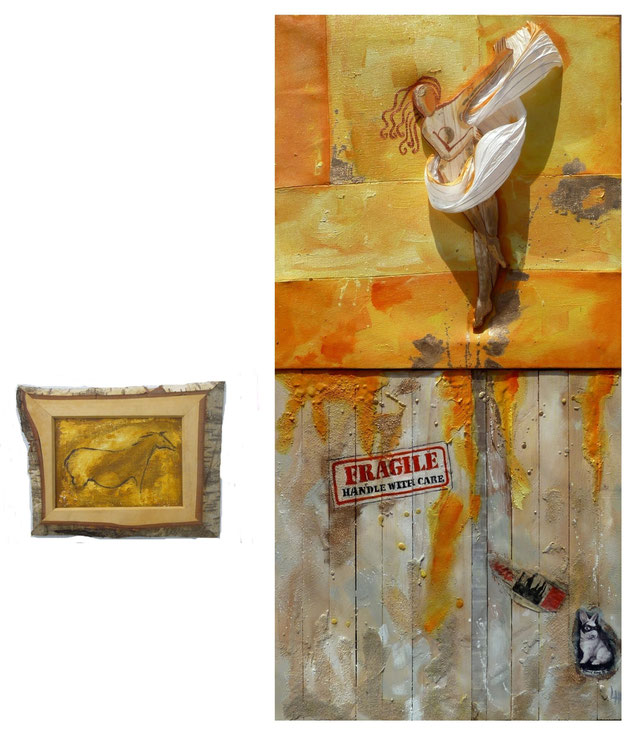 Siena neben                                            Neapelgelb 2015
Öl/Leinwand                                            Öl /Holz/Leinwand
26cm x 35cm                                          121cm x 60 cm
Neco Beth                                               L. Hoffnungsthal
Both artists are excited about the opportunity to present for the first time their ''Ensembles''to the public at the German Consulate.
Neco Beth's Art is located in the dialogue with tradition and emotion,
Elements of Paleolithic art forms are presented contemporary.
Lydia Hoffnungsthal's art develops from her current everyday and subculture.
Mediterranean colors and people in motion in an unlimited nature predominate.
Our temporary compilation of paintings to ensembles create exciting compositions 
which communicate with each other.
They are snapshots of dual imagery  in the movement to each other
Combinations of contrasting materials and found objects, such as wood, paper, sand,silk, sail, canvas, and the application of various techniques like gravure printing, linocut, oil painting or collage, open up a new dynamic.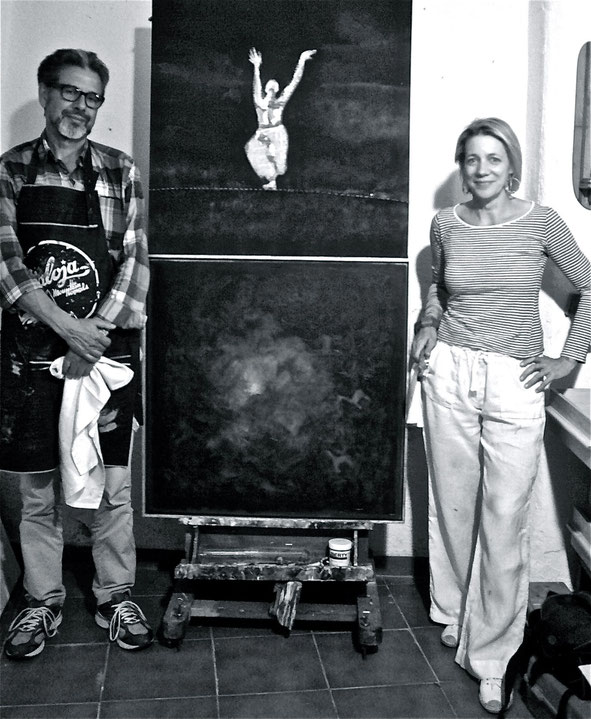 8th International Art Exhibition 25th September - 29th September
Buyeo Jeongnimsaji Museum South Korea 
My artworks now available at Arte Casa Puerto Andratx Mallorca
http://www.artecasa-gallery.com/

2015 Artists for the kids of Syria 
Charity Auction 6. June 2015 in Grand Hyatt - Dubai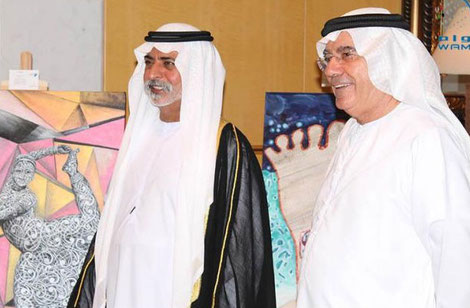 Thirty seven works from a special collection of 183 fine art creations donated by prominent Arab and international artists were sold during the auction.
DUBAI -- A charity auction organised under the patronage, and in the presence of Shaikh Nahyan bin Mubarak Al Nahyan, UAE Minister of Culture, Youth and Community Development, has raised Dh487,000 to support Syrian children in refugee camps.

Thirty seven works from a special collection of 183 fine art creations donated by prominent Arab and international artists were sold during the auction organised by Fann-A-Porter art gallery in collaboration with the Emirates Red Crescent (ERC) and art dealers, artforumuae, at the Grand Hyatt Hotel, Dubai, on Saturday. The remaining works will be available for sale at the gallery until the end of July.
Shaikh Nahyan commended 'Artists for the Kids of Syria' auction, a humanitarian initiative of Emirati artist Fatima Lootah, and noted that the event shows the close ties between the UAE, under the leadership of UAE President His Highness Shaikh Khalifa bin Zayed Al Nahyan, and Arab brothers.
Commending the humanitarian role of the country and its agency, the ERC, he stressed that the UAE does all it takes to back Arab brothers, support the needy and the ill, counter disasters and deepen solidarity among Arabs everywhere.
He underscored the role artists play in supporting humanitarian issues, alleviating the suffering of these refugee children through psychological, material and educational support in a bid to create a favourable, safe, secure and humane environment for them.
Shaikh Nahyan bin Mubarak added, 'We hope these events would open the door for more good action for the benefit of the brotherly Syrian people whom we greet tonight. Our minds, hearts and feelings are with them and may Syria always remain a glorified and powerful Arab country.'
For more news from Khaleej Times, follow us on Facebook at facebook.com/khaleejtimes, and on Twitter at @khaleejtimes